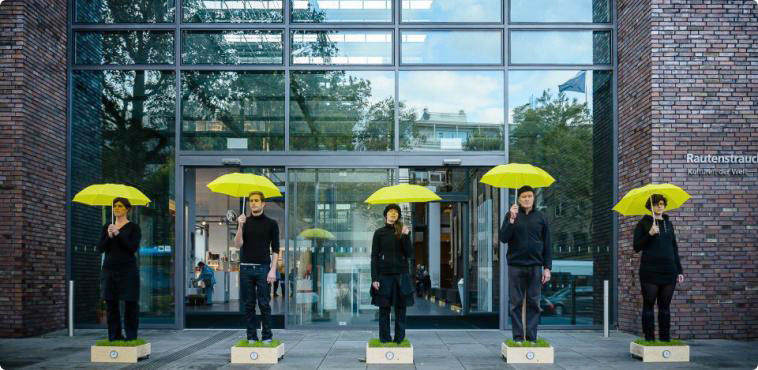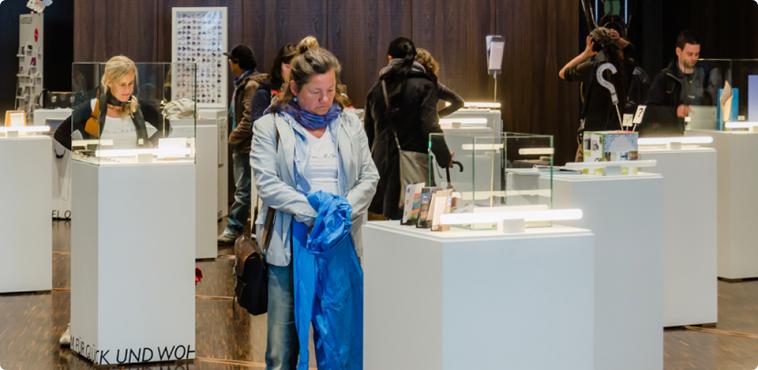 08. September - 06. October 2013: REACT exhibition and co-organisation of the ökoRausch Festival at Rautenstrauch Joest Museum / Cologne, D
The ökoRAUSCH Festival for Design & Sustainability proved to be a crowd puller again this year. Almost 2,000 visitors found their way to the Forum VHS in the Rautenstrauch-Joest-Museum from September 28th to October 6th, despite the late summer weather.
The centerpiece of this year's ökoRAUSCH festival was the "react" exhibition. It presented projects by various designers and artists who, in the field of tension between humans and the environment, were literally to be understood as a reaction to current social and ecological issues. Accordingly, the exhibition encouraged the public to think about the topics presented and also to become active themselves. In addition to the exhibition, numerous workshops and lectures enriched the festival. The supporting program, which was largely designed by the long-term cooperation partner Stadt Land Welt e.V., attracted a particularly large number of visitors this year.
Another highlight was the SYMPOSIUM on the subject of "react - change through action" with a focus on design and product development. Well-known speakers such as Christa Liedtke from the Wuppertal Institute, Bernd Draser from ecosign Cologne and Jasmin Honold and Lisa Bockwoldt from the Initiative Psychology in Environmental Protection were guests. The central question was to what extent design can contribute to actively interfering in shaping society in terms of positive sustainable development.
As in the previous year, the program of the ökoRAUSCH festival also took place outside of the Rautenstrauch-Joest-Museum. 57 so-called "satellites" all over Cologne were involved and attracted an additional 1,250 visitors over the course of the nine days of the festival! The first "Satellite Day" on October 5th was a great success: many guests took the opportunity to get to know those present by means of speed dating. The campaign was very well received and many fruitful contacts were made.
More information at: ökoRAUSCH 2013